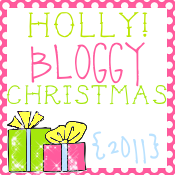 This gift was packed! I loved it!! Personalized stationary, cocoa and teacher mug, socks, classroom centers, personalized bell, personalized hand sanitizer, set of winter books, an awesome clipboard....all bundled up in a personalized bucket!
I was spoiled by my Holly Bloggy partner!! Thank you
Amy
!
Also a big thank you to Caitlin over at
Ms. Preppy
and
Sarah
over at Kindergarten Korner for putting together this wonderful Holly Bloggy fun!